When To Hire An SEC Whistleblower Lawyer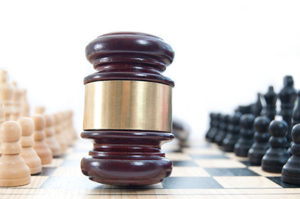 Many people wonder what the role of an SEC whistleblower lawyer is, how an SEC whistleblower lawyer can help them, and when to hire one.
Congress Expected That SEC Whistleblowers Would Want To Hire Lawyers
The SEC whistleblower statute has a separate subsection called "Representation".  In that subsection, the U.S. Congress made it explicit that "Any whistleblower who makes a claim for an award under" the SEC whistleblower program "may be represented by counsel."  (15 U.S.C. § 78u-6(d)(1).)
An Anonymous Whistleblower Must Be Represented By A Lawyer
In a subsection of the SEC whistleblower statute titled "Required Representation", Congress mandated that any whistleblower who submits his or her information to the SEC anonymously "shall be represented by counsel".  (15 U.S.C. § 78u-6(d)(2)(A).)
For purposes of the SEC whistleblower program, "anonymously" and "confidentially" mean different things.  For an explanation of the differences, and the rules related to each, click here.
A Few Of The Things An SEC Whistleblower Lawyer Can Help With
To participate in the SEC whistleblower program, all someone technically has to do is fill out an online form called a Form TCR, or a printed version of it.  This may make some people wonder:  what does an SEC whistleblower attorney do?
First, the SEC gets thousands of whistleblower tips each year.  Not all of those tips get investigated.  The Form TCR has a small box in which it asks a whistleblower to explain all of the information that he or she has uncovered.  For someone with limited or no experience with SEC Enforcement cases, it can be difficult to try to figure out what kinds of things the SEC might be interested in.  It can also be difficult, if not overwhelming, for a whistleblower to try to figure out how to present all of their information in a box, in a compelling way that will hopefully convince the SEC to open an investigation into their case.  An experienced SEC whistleblower lawyer can help with these things.
Second, there are a lot of complicated rules that must be satisfied to be eligible for a SEC whistleblower award.  There are also a lot of complicated SEC whistleblower rules that can disqualify people from receiving SEC whistleblower awards.  An SEC whistleblower lawyer can explain those rules, and help their client to figure out if he or she may be eligible for an SEC whistleblower reward.
Third, after the Form TCR is filed, the SEC's lawyers sometimes want to talk with the whistleblower over the telephone, meet with the whistleblower face-to-face at the SEC's offices, or get more information from the whistleblower.  An SEC whistleblower attorney can take the SEC's phone calls, so that the client does not get startled by seeing "US Govt" show up unexpectedly on their caller ID.  An SEC whistleblower lawyer can coordinate dates or times that work for the client, and can help the client to understand what the SEC is seeking from them.  An SEC whistleblower attorney can prepare a client to speak with the SEC, and assist the client in conveying what the client wants to say in a way that the SEC will understand and hopefully relate to.  In addition, an SEC whistleblower lawyer can and usually will participate in those telephone calls and attend those meetings with their client, and can assist their client during them, so that their client does not have to go it alone.
Fourth, to get an SEC whistleblower award, an award claimant (the whistleblower) has to make a formal written application, explaining why he or she thinks that he or she should get an award.  This application is made to the SEC's Claims Review Staff.  The Claims Review Staff do not know the whistleblower and are not the SEC lawyers who worked on the whistleblower's case.  The Claims Review Staff will recommend that the Commission either grant or deny the whistleblower an award and recommend the amount of the award if one is to be granted.  Rather than leaving all of this to chance, an SEC whistleblower might want the help of an SEC whistleblower lawyer who has been through the award process successfully.
Fifth, even a cursory review of the SEC's webpage that lists its award decisions will reveal that the SEC has denied far more award claims than it has granted.  No one likes to think about it, but what if the Claims Review Staff recommends that the Commission deny them an award?  On the chance that this worst-case scenario might arise, a whistleblower may want to have an SEC whistleblower attorney on his or her side who has actually appealed such decisions before and won.  It may be preferable to have this attorney on their side from the beginning, rather than scrambling to find one after the award is denied, and then wasting valuable time getting the lawyer up to speed on the case, all while the clock is ticking on the whistleblower's limited time to appeal the denial of their award.
Some Things To Think About When Hiring An SEC Whistleblower Attorney
Reviewing lawyer websites and résumés can be confusing.  Keep in mind that some States may allow lawyers to call themselves "specialists" or "experts".  Other States may not allow attorneys to say that they are "specialists" or "experts".  This can create confusion, because one lawyer may have the credentials to be considered an expert SEC whistleblower lawyer by many people, but may not be allowed to say so on his or her website.  In a different State, a lawyer may be allowed to claim that he or she is an expert or specialist SEC whistleblower attorney, even though he or she may not have as much experience or skill in representing SEC whistleblowers.
Another thing to keep in mind is that, because the Securities and Exchange Commission ("SEC") is a federal agency with jurisdiction nationwide, it may not matter where a particular SEC whistleblower lawyer lives or works.  For example, an SEC whistleblower attorney in New York City may be able to handle SEC whistleblower cases for clients who live or work in California or Texas.  Even if the SEC assigns a case to one of its other offices for investigation, such as its office in Washington, D.C., that New York lawyer may still be able to handle the SEC whistleblower filing, investigation, award claim, and administrative appeal to the Commission (if any) for that California or Texas client.
These are just some of the reasons why it is important for a potential SEC whistleblower to have at least a basic understanding of the role of an SEC whistleblower lawyer.  It is also why it is important to think about the credentials, experience, and other information that an SEC whistleblower lawyer provides.
You should also carefully read any client reviews or client testimonials on the lawyer's website.
Another good practice is to ask a possible SEC whistleblower lawyer questions about his or her experience and skills, and whether the lawyer can handle your case, during your first telephone call or meeting with that lawyer.
In addition to credentials, an often underrated consideration is whether you feel comfortable with a particular SEC whistleblower attorney.  SEC investigations can take several years.  The lawyer you hire may be one of the few people — perhaps the only person — who you will be able to confide in about your situation for a long time.
Additional Information About SEC Whistleblower Lawyers
For additional information about SEC whistleblower lawyers and the assistance they might be able to provide, please click on the links below: